If you are a business in the industrial sector that is struggling to find enough space to meet your needs, an industrial marquee could be the solution you are looking for. 
Able to be used as warehouse space, these semi-permanent structures can be used on both a short or long-term basis depending on your requirements. 
Made using heavy-duty, high-quality materials and with a full range of customisations and add-ons available, industrial marquees are ideal for businesses seeking a quick warehouse solution.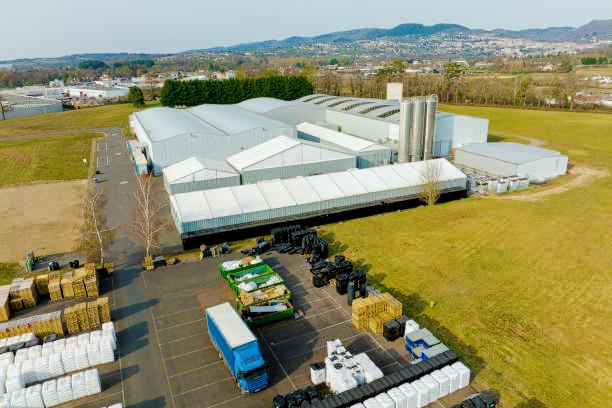 Industrial Marquee Warehousing: The Ultimate Solution for Your Storage Needs
If you've never considered an industrial marquee as an option for adding warehouse space, here's why it's the ultimate storage solution. 
Benefits of Industrial Marquee Warehousing
Highly

cost-effective

, industrial marquees represent a much lower investment when compared with constructing a traditional warehouse space. 

Less maintenance

is required for industrial marquees. Permanent warehouse structures require ongoing maintenance and repairs which can be both expensive and disruptive.

A temporary structure that is easy to set up and take down, industrial marquees offer exceptional

flexibility and mobility

.  

Durability

. Industrial marquees can be used for extended periods without issue and provide excellent protection in all weather conditions. 

Offering adjustable span widths, you can easily

maximise the available space

at your location and repurpose it as secure storage.

Easily adapted

to suit your needs, industrial marquees can also be fitted with heating and cooling options, doors and windows, be partitioned into different zones and more thanks to their modular design. 

Environmentally friendly

, industrial marquee structures help reduce waste generated by traditional warehouse builds. 
Quick setup.

Often taking just a matter of days to fully install, industrial marquees can swiftly resolve the changing storage needs of businesses for fewer disruptions to operations. 
Applications of Industrial Marquee Warehousing
There are so many settings in which an industrial marquee as warehousing can be of value. These include but are not limited to:
Equipment storage, including large machinery such as forklifts

Inventory overflow

Meeting storage needs due to seasonal demand 

Added workspace for assembly or manufacturing

Temporary storage while moving or renovating 

Weatherproof loading/unloading bays

Parcel sorting, order packing and dispatch

Temporary office spaces 
How to Choose the Right Industrial Marquee Warehouse
Unsure how to choose the right industrial marquee for your needs? There are a few things to consider when deciding on which marquee will suit, namely:
Size
First things first, you'll need to look at where you want to place the marquee and measure out the available space. This will not only mean depth and width, be sure to factor in the height of the marquee too and whether this encroaches on other structures or trees. 
Location
When measuring the size of your proposed site, also look at the surface you're going to place the marquee on. Is it level? How firm is the surface? 
The marquee installation is going to be quickest on a level area and due to the weight of the marquee, a solid foundation is a must. 
Purpose
What are you going to use your warehouse marquee for? Do you need it to be temperature-controlled? Is a specific height clearance necessary? 
Thinking about how you will use it and what will go in it is key to achieving the best outcomes from a storage point of view. 
Required Duration  
Will you need the warehouse long-term or for a shorter duration of only weeks or months? This can help you narrow down what is going to be most necessary or non-negotiable when it comes to the final set-up.  
Budget
Be sure to have a clear budget in mind and know how much this can flex, this will help you find an option that includes all the necessary extras without overspending. 
Contact Us Today to Learn More
At Excel Event Hire, we specialise in marquee hire. Whether for corporate events, weddings or warehousing, we can do it all. 
Our team members are highly skilled and able to support your business in securing added storage space via an industrial marquee in record time. 
Our professional service includes on-site consultations to help with determining the size and best placement as well as guidance on the most suitable option for purpose and budget. 
With a dedicated contact on all hires, we make it easier to find a quick and straightforward solution to your warehousing needs. 
To enquire about our industrial marquees or get started with a new hire, contact Excel Event Hire today at 07 3217 3217.