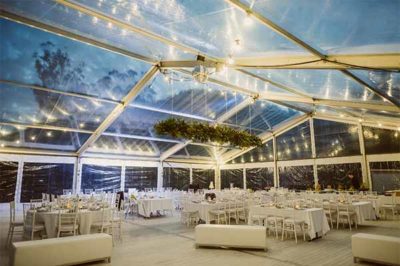 Excel Hire provides reliable event hire on the Sunshine Coast. We have the supplies and resources to equip any kind of event. Additionally, our experience in a wide range of events means that we are adept at ensuring our clients' events are a success.
We provide event hire on the Sunshine Coast for all kinds of events, from weddings to sporting events.
Our professional team has provided event hire for just about every type of event. From conferences to weddings, from sports events to exhibitions, we can do it all. This wide-ranging portfolio means that we have the flexibility and experience you are looking for.
Excel Hire has a wide range of equipment that we maintain in a superb condition. From marquees to cutlery, we stock everything you need for a successful event. We deliver and set up everything you require in a prompt manner. Following your event, we dismantle and collect everything swiftly and efficiently. Our reliability means that you can focus your attention on other aspects of your event.
Our years in the events industry mean that our team is able to provide professional advice and suggestions.
Therefore, we will present you with options that are a perfect fit for your anticipated event. No matter the intended ambiance or expected attendance, we will work alongside you to help bring your vision to life. That is why Excel Hire are entrusted with event hire on the Sunshine Coast.
For all your event hire needs, please contact Excel Hire. We look forward to working with you to ensure the success of your event.